YAMAGUCHI Akira's work is currently on show in 'Painted Capitals: Cityscapes of Kaifeng, Hangzhou, Kyoto and Edo' at the Okura Shukokan, Tokyo.
The exhibition surveys representations of the city in Japanese and Chinese art with a pan-historical perspective, including works ranging from Song dynasty (960-1279) provenance to contemporary – for which Yamaguchi is the sole artist included.
The pieces on show are all of an impressively high calibre: woodcut prints by Hokusai Katsushika and Hiroshige Utagawa feature alongside folding screens by Kano Eitoku and Kano Tan'yu. It is a rare opportunity to view some of the treasures in the collection of the Okura Shukokan, founded as Japan's first private art museum in 1917 by the entrepreneur-statesman Okura Kihachiro (1837-1928).
The exhibition reveals the rich lineage of Yamaguchi Akira's city paintings. Not only folding screens but a diverse range of other media is shown, including manuals of drawing techniques, lacquer boxes and a particularly unusual handscroll by Jakuchu Ito wrought entirely in monochrome hues.
As might be expected, the works most closely resembling Yamaguchi's in terms of composition are the Edo period folding screens which feature dispersed golden cloud coverage in wavelike patterns. However, the most striking thing about the exhibition's inclusion of Yamaguchi is that it also highlights what might be termed a 'modernity' to some of the traditional pieces. The fresh graphic clarity of Yamaguchi's style is not unlike that style of the handscroll 'A Glance at Both Banks', painted centuries before by Tsuruoka Rosui. The vivid colors of the figures' clothing in Tsuruoka's piece and its bolder, spare manner of delineating rainfall might suggest a provenance far more recent than the Edo period.
We invite you to see Yamaguchi Akira's work in the context of a magnificent collection of traditional Japanese art, and to enjoy the beautiful – and sometimes striking – links between the old and the contemporary.
'Painted Capitals: Cityscapes of Kaifeng, Hangzhou, Kyoto and Edo'
5th OCTOBER to 15th DECEMBER 2013
Venue:
Okura Museum of Art
2-10-3 Toranomon, Minato-ku, Tokyo 〒105-0001
    (In front of the Hotel Okura Tokyo main building)  
Tel: 03-3583-0781
Opening Hours: Tuesday-Sunday 10.00am-4.30pm (last entry 4.00pm)
Closed Mondays and public holidays (please note that if the public holiday falls on a Monday, the Museum will remain open.)
Sponsorship: Okura Museum of Art
Direction: Professor Kiyoshi Itakura, Tokyo University Oriental Culture Research Institute
Support: Yomiuri Shimbun
Collaboration: Hotel Okura Tokyo
Taisei Corporation
Exclusive Tokai Paper Manufacture
University of Tokyo Press
Yamaguchi Akira is showing two pieces in this exhibition: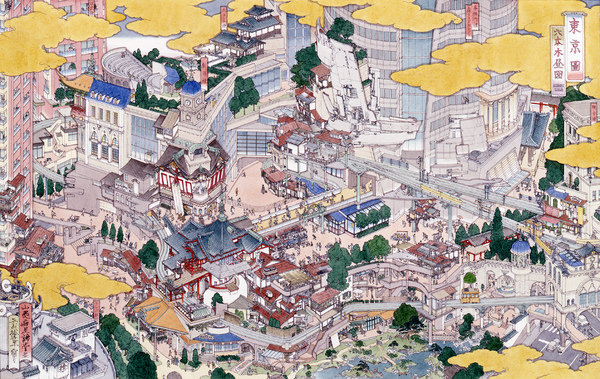 Tokei (Tokyo): Roppongi Hills
2002
Pen and watercolour on paper
40cm x 63 cm
Collection of Mori Art Museum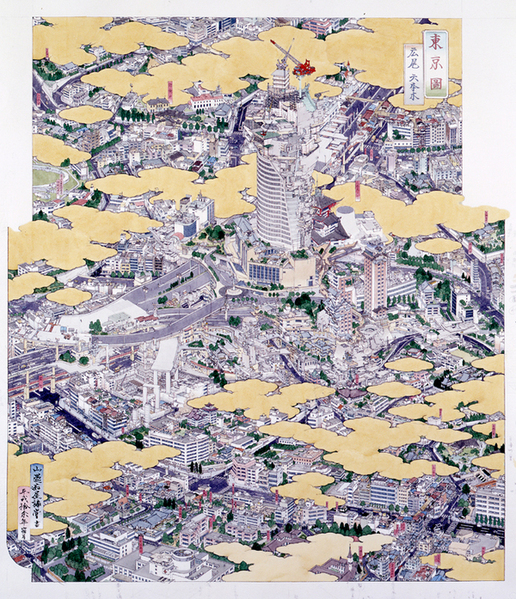 Tokei (Tokyo):Hiroo and Roppongi
2002
Pen and watercolour on paper
73.5cm x 65.5 cm
Collection of Mori Art Museum